HP StorageWorks 1606 Full Extension SAN Switch (16x 8GbFC, 6x1GbRJ45)
Pridať do obľúbených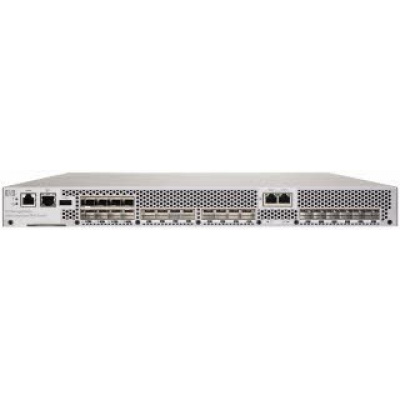 Popis
Parametre
Strážny pes
22 ports (16 8Gb Fibre Channel and 6 1Gigabit Ethernet) Extension switch for Fibre Channel over Internet Protocol (FCIP) traffic forwarding over IP wide area networks (WAN). Includes rack mount kit, advanced zoning, and web tools.
NOTE: Fibre Channel ports require optical transceivers listed below. Ethernet ports require optical or copper transceivers listed below.
HP StorageWorks 1606 Extension SAN Switch

IT organizations continue to face unprecedented data growth as more platforms, applications, and users connect to the data center network. In turn, the storage network infrastructure must continue evolving to enable fast, continuous, and most cost-effective access to mission-critical data from anywhere in the world.
To address this challenge, the HP StorageWorks 1606 Extension SAN Switch helps provide fast, reliable, and cost-effective network infrastructure for remote data replication, backup, and migration. Leveraging next-generation Fibre Channel and advanced Fibre Channel over IP (FCIP) technology, the 1606 Extension SAN Switch provides a flexible and extensible platform to move more data faster and further than ever before.
Whether configured for simple point-to-point or comprehensive multisite SAN extension, the 1606 Extension SAN Switch addresses the most demanding business continuity, compliance, and global data access requirements. Up to sixteen 8 Gbps Fibre Channel ports and six 1 Gigabit Ethernet (GbE) ports provide unmatched Fibre Channel and FCIP bandwidth, port density, and throughput for maximum application performance over WAN links.
The 1606 Extension SAN Switch is available in three models:
Power Pack+: 22 Total Ports (sixteen 8Gb FC and six 1GbE) and value add software
Full: 22 Total Ports (sixteen 8Gb FC and six 1GbE)
Base: 6 Total Ports (four 8Gb FC and two 1GbE)
The Base model is targeted for smaller environments such as the Small to Medium Enterprise (SME) and Enterprise Remote Office/Branch Office (ROBO), yet provides the ability to grow as the business demands equating to investment protection while also affording no disruption in service. Through an Upgrade Bundle all FC and GE ports on the system may be activated along with several complementary features that meet the needs of larger environments. Embracing a building block methodology for add-on features, the 1606 Extension SAN Switch provides the flexibility to custom tailor a solution to best meet the needs of customer's unique environment.
The 1606 Extension SAN Switch integrates a variety of best-in-class capabilities, such as Fibre Channel routing, Storage-Optimized TCP ("SO-TCP"), hardware-based compression, write and read acceleration for disk and tape, in-tunnel Quality of Service (QoS), IP Security ("IPsec") encryption, FCIP trunking and Adaptive Rate Limiting to deliver a high-performance, highly reliable, and secure distance-connectivity solution. This makes the HP 1606 Extension SAN Switch strategic for a variety of IT initiatives; including business continuance, site mirroring, replication, and data migration across virtually unlimited distances.
The 1606 Extension San Switch is fully compatible with the entire B-Series family of FC switching platforms, delivering advanced 8 Gbit/sec fabric services end-to-end over distance and providing investment protection for hardware as well as the ability to leverage expertise and training across the data center staff.
.
Typ príslušenstva:
Switche
Aktuálna cena produktu je
50117.12
EUR  s dph