HP BladeSystem c3000 Enclosure Single Phase (4xPS, 6xACFAN, OA DDR2 mod., DVD, rails, 8xTrial IC)
Pridať do obľúbených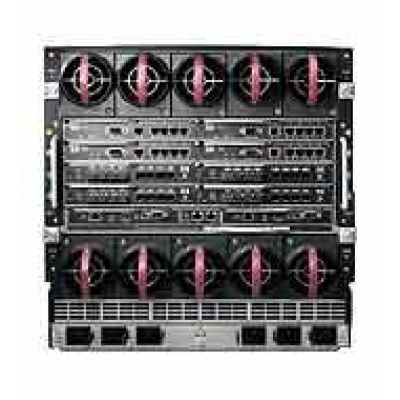 Popis
Parametre
Strážny pes
Supports a full enclosure of 8 blades

NOTE: Includes 4 AC Power Supplies, 6 Active Cool 100 Fans, DVD drive, Rail Kit, Onboard Administrator DDR2 module, and 8 Insight Control Suite Trial Licenses.
HP BladeSystem solutions start with a either a c7000 or c3000 Enclosure. For the c3000 Enclosure, customers can add c3000 power supplies, Active Cool Fans, a c3000 DVD drive, and if needed, an optional local KVM module. Once the enclosure has been selected, the following components can be added: networking interconnect modules, HP ProLiant and Integrity Server Blades, and optional Insight Control suite for BladeSystem management software. Please reference the QuickSpecs listed above.
HP BladeSystem c3000 Enclosures:
Offered in two different models: the c3000 Enclosure for racking in standard 19 inch racks, or the c3000 Tower Enclosure on casters for sites without racks.
Server blades, storage blades, interconnect modules, power supplies, fans, and Onboard Administrator modules are designed to fit into the c3000 enclosure.
The HP BladeSystem c3000 enclosure is:
A single-phase enclosure available worldwide for use with in-rack PDUs & UPSs which accept C13/C14 power cords; or
Alternatively, in countries with low-line (100VAC to 110VAC) power outlets, the enclosure's power supplies can be connected directly to low-line wall outlets.
NOTE: Caution: when connecting directly to wall outlets, customers should determine the maximum amperage of the wall outlet circuit to prevent power overload. See Technical specification section in this document for the individual power supply amperage.
HP BladeSystem c3000 enclosure options:
Optional HP 1200W High Efficiency AC Common Slot Power Supplies (up to 6 total)
Optional c-Class Active Cool fans (between 4 and 6 total)
Optional KVM module
Optional DVD drive (if not part of an enclosure bundled part number)
Optional Rack rails (if not part of an enclosure bundled part number)
Optional HP 1200W -48V DC Common Slot Power Supplies (up to 6 total)
Optional HP BLc3000 Tower Security Option
The c3000 enclosure is 6U and holds up to 8 HP c-Class server blades:
Up to 8 half-height server blades (examples: HP ProLiant BL 260c G5, BL2x220c G5, BL460c G6, BL465c, BL465c G5, BL495c G5 Server Blade)
Up to 4 full-height server blades (Examples: HP ProLiant BL480c, BL 680c G5, BL685c, BL685c G5 Server Blades)
Up to 4 HP SB40c Storage blades attached to half-height server blades
Up to 4 PCI Expansion blades attached to half-height server blades
Or combinations of the above.
For additional server & storage blade information, please visit: http://h18000.www1.hp.com/products/quickspecs/division/12534.html
Types of interconnect modules available: (up to 4 per enclosure)
Ethernet Interconnect Switches from Cisco & Blade Network Technologies (BNT)
Ethernet Pass-Thru modules
Virtual Connect Ethernet modules (requires VC Management firmware v1.20 or greater)
Fibre Channel Interconnect Switches from Brocade & Cisco
Virtual Connect Fibre Channel modules
Fibre Channel Pass-Thru module.
InfiniBand Switch modules
For additional HP BladeSystem c-Class Interconnect Component information, please visit: http://h18000.www1.hp.com/products/quickspecs/12524_div/12524_div.html
HP Insight Control Suite software: (Choice of either a trial use DVD, or an 8 blade fully licensed DVD)
A fully licensed DVD covers all 8 blades in the HP BladeSystem Enclosure with no need to buy separate management and/or provisioning tools
Insight Control Suite contains the following components:
HP Systems Insight Manager (HP SIM) with the HP BladeSystem Integrated Manager (BSIM).
HP iLO Advanced for BladeSystem license
HP Insight Rapid Deployment software
HP Insight Power Manager software
HP Insight Virtual Machine Manager software
HP Insight Performance Manager module
HP Insight Vulnerability and Patch Manager module
Warranty:
This product is covered by a global limited warranty and supported by HP Services and a worldwide network of HP Authorized Channel Partners. Hardware diagnostic support and repair is available for three years from date of purchase. Support for software and initial setup is available for 90 days from date of purchase. Enhancements to warranty services are available through HP Care Pack services or customized service agreements. SATA hard drives have a one year warranty. SAS hard drives have a three year warranty.
NOTE: Server Blade Enclosure Limited Warranty includes 3 year Parts, 3 year Labor, 3-year on-site support.
For additional information please visit:
http://h18004.www1.hp.com/products/blades/components/components.html
.
Typ príslušenstva:
Ostatné
Aktuálna cena produktu je
5120.76
EUR  s dph